Recycle/Ecology Flag Bag
I couldn't wait until the next Earth Day to post this. So, here goes...(Please click on the image to enlarge the photo)....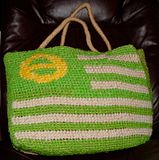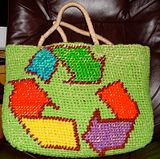 This is not crocheted. It is needlepoint that I did onto an existing large straw tote that I picked up from Goodwill for 99 cents.
One side has the Ecology flag, (it's not seen much today but I remember it being very popular in the '70s). The other side is a recycle symbol done in many colors. I used all left-over yarns I had stashed away so this truly is a recycled bag through and through.
Just before I finished it, I realized I should have taken a "before" picture so, while working on the last side, I stopped to snap a photo.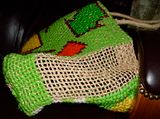 The whole bag was this heavy straw mesh weave. The bag has a tag on the inside that says it's from The Gap clothing store and it was made in the Philippines. It's very durable and still flexible even with the designs stitched on.
I don't think I'll line it with anything.
It's very bright and would hold a lot of yarn for sure!