Spooky the Black Cat - Pillow
I bought this old pillow kit from e-bay two weeks ago. (click on pic for larger view).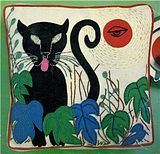 I really loved how it looked. It's called a "primative embroidery" pillow. It came with felt, thread, and the pillow front and back.
Plus a side stip and felt for the piping even. They sure don't make kits as nice as these were. At least; not for the price you can pick up for one on e-bay.
ANYWAY, I just finished it.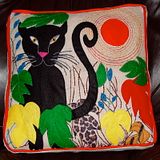 Here's the front.(Click on it). Yes, I changed it somewhat again. Most notably the cat's eyes and tongue.
Cats are too dignified to have a tongue lolling out of it's mouth like they intended for it to have in the picture on the package.
And the eyes. Ugh! The original eyes look terrible, don't they?
Well. I added some cat's eye fasteners used for a stuffed animal cat. Then I embroidered around those. Wow. It makes such a huge difference.
Also, I decided the blue leaves had to go. Blue leaves????? So I cut them out and used them as templates over some felt I had already. One was a tiger print. One a leopard print. And yellow felt.
I used the left-over blue felt to make flowers instead of embroidering them.
I also decided not to embroider the weird eye on the sun. I flipped it over so that the outline for it didn't show.
Now for the back.....(Clicky)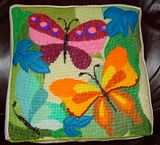 I used a needlepoint picture I had already made a while ago but didn't know quite what to do with. (The original one in the package was just plain ecru fabric, (like the front but with nothing on it.) I used the blue leaves here adding them among the butterflies. It's stuffed with a square pillow. You can see where I sewed it shut on the back here at the bottom.
This pillow was so fun to make! It was another Columbia Minerva kit. Vintage kits are the best!!!!
(I'm calling the cat Spooky.)