Skull Purse and Fingerless Gloves
Just in time for Halloween; a tunisian-stitched skull purse and fingerless gloves to match. (Images are clickable for enlargement).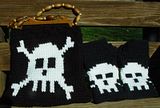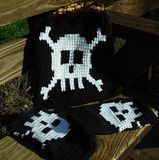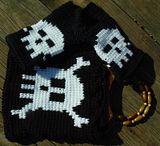 The front and back of the purse are exactly the same. I just made the graph twice and sewed the two squares together. Along the top I did a basketweave stitch and joined the bag to the handles. I like how the wooden beads of the handle kind of sound like bones clicking together when holding it.
I used two different graphs for these. The purse graph is from here...

Helloyarn.com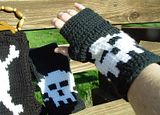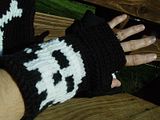 and the fingerless gloves graph is from here.....
Crafster.org
I had the hardest time taking pictures of myself in the gloves.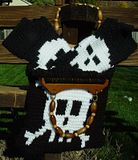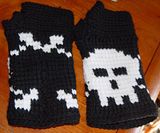 This is a shot of the front and back of the gloves. I just made the graph, joined the two ends together, then single crocheted around the bottom and top. I continued around the top, made a chain from front to back through my thumb, then worked more single crochets until I liked the length.