United States of America Map afghan
You know how you collect graph patterns and they sit around for a while, getting lost and then reappearing again every once in a while? Well, this next afghan is just that.
I found it online a while ago. I couldn't even remember where I got it and had to re-discover it's source so I could credit them with the pattern. (Please click on the photo to enlarge it).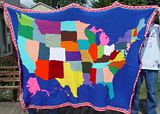 It's so huge, (65 inches by 81 inches), that I had to enlist two of my sons to hold it up for pictures. (I'm sorry I couldn't get them to flatten it out better but, hey, they came and did this for me so I can't complain!).
It's from a pattern offered for free from Lion Brand yarns at their website
HERE!
The pattern says it's for knitting but all you need is the graph to make it in tunisian crochet afghan stitch. There were 12 pages plus the page of how all the pages go together so be warned that this is one HUGE project!!!
What an excellent way to get rid of the many odds and ends of yarn balls that I had accunulated in my stash! (Warning! Massachusetts was larger than I realized and I ran out of that color yarn. Aaaaahhh! I hope you didn't notice it.)
Speaking of large states. First I thought Florida went on forever. Then I met up with Texas! Halfway through that state I thought, Man! We should be called Ameritexas because it takes up so much of the country! LOL! But then I went online and googled a map that had the contiguous united states with Alaska super-imposed over the top and then I truly realized just how massive Alaska is! People don't realize just how big Alaska is because when they usually see it, it has been shrunk, (like on my afghan), in order to fit it in a picture. Well! Now I know.
It makes this small Hoosier from Indiana pretty humble.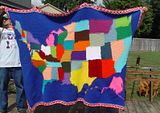 Here's the back for all you back-lookers.
For the border I did the basketweave stitch in red and white alternating rows. I thought it would look stripey and since the background was all blue it would look good. It's pretty busy though.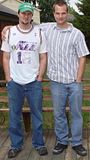 Finally, here's my sons Case and Mike. Thanks for the help guys!
I have no idea what I'm going to do with this behemoth afghan. But I'm glad I finally made it. It was a lot of fun!
I want to end this post with one of my favorite Simon and Garfunkel songs.
America
I'll also throw in the lyrics for you. (They don't even rhyme at all. That's the genius of Paul Simon!)
"Let us be lovers we'll marry our fortunes together."
"I've got some real estate here in my bag."
So we bought a pack of cigarettes and Mrs. Wagner pies
And we walked off to look for America

"Kathy," I said as we boarded a Greyhound in Pittsburgh
"Michigan seems like a dream to me now"
It took me four days to hitchhike from Saginaw
I've come to look for America

Laughing on the bus
Playing games with the faces
She said the man in the gabardine suit was a spy
I said "Be careful his bowtie is really a camera"

"Toss me a cigarette, I think there's one in my raincoat"
"We smoked the last one an hour ago"
So I looked at the scenery, she read her magazine
And the moon rose over an open field

"Kathy, I'm lost," I said, though I knew she was sleeping
I'm empty and aching and I don't know why
Counting the cars on the New Jersey Turnpike
They've all gone to look for America
All come to look for America
All come to look for America