911 Afghan Square
With the upcoming 5th anniversary of the attacks on September 11, 2001; I created this 9-11 Afghan Square.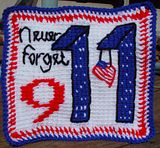 I made a page up here...
911 Square
which has the graph and instructions for stitching overtop once you make the square.

It is, once again, done in tunisian, (or afghan), stitch. I used a size H hook.
But you could also make it in single crochet stitches.

I will be adding this link to the right side bar of links so it will be easy to find.

Hope you all like it and make one too.
Please share the link with your friends and always remember 9 - 11.