M*A*S*H Bag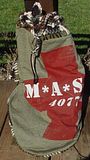 I've seen some new items being created using old t-shirts. I think they call it "reclaiming". So, when I saw this dog Halloween costume on clearance, I immediately thought of creating a new bag from it. Target had a whole line of pet costumes from Boots and Barkley.
I loved the M*A*S*H show as a kid and I really liked the shape of the shirt. It was for a large sized dog, but for a purse/bag, it was the perfect size.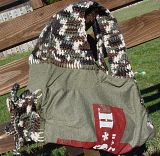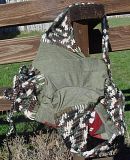 This was a simple M*A*S*H 4077th pre-stressed looking t-shirt. I added two handle/straps which come off the two sleeves and attach to the round base bottom I crocheted.
I used Bernat's camouflage yarn called Mash. Yep. That's right. (I love it when things just work out).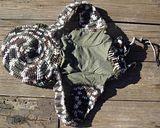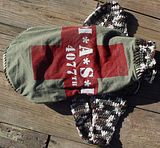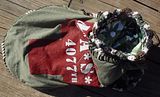 Since this was a dog's shirt, the design is on the back. So here are shots of the front and back. I crocheted around the collar and added a crocheted chain to cinch it closed.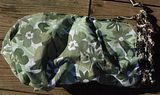 The shirt fabric was so thin I had to add a lining to the bag. I used this drab olive greenish colored flowery fabric.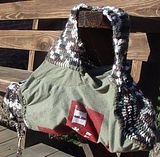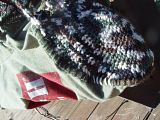 To begin crocheting around the neck, arms, and bottom of the shirt, I had to first thread a needle with the yarn and whipstitch around the hems. Can you see where I did the whipstitches?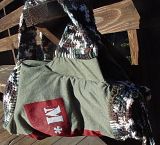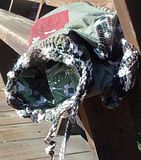 Then it's easy to simply crochet underneath each stitch and continue around as you go. For the bottom, I had to make a circle first and once it became as large as the bottom of the shirt, I crocheted into the whip stitches. (It's easier for me to crochet a circle from the inside-out rather than to start at the edge of the shirt and gradually decrease, (although it could be done that way too).

Since the t-shirt's front, (by the dog's tummy), is shorter than the back, the bag's bottom is sort of at a slant.

I thought what would really be cute for this bag would be to go to the pet shop and make your own "dog-tag" to attach around the cinched chain at the neck. Our Pet Smart store has one of those do-it-yourself dog tag machines that you can simply punch in the info of whatever you like it to say and also choose the style of tag shape too. I just had another tag made for our dog, (she chewed up her old one), and it costs about $8.00 to make one. Well, I haven't made one for this bag or anything; but I was just thinking how cute it would be.

Hope you all like the bag! After next Halloween, I'll be looking at the clearance aisle again to be sure!