Capricorn Done
Yesterday, (or possibly the day before yesterday), was the end of zodiac month for Capricorn.
So, I'm barely squeaking in with this finished Capricorn square.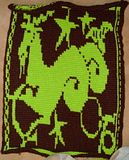 It is tunisian crocheted with a size J cabled afghan hook.
I used I Love This Yarn from Hobby Lobby in Coffee brown and Limelight green colors.
4 squares done and 8 more to go.