That Little Bird - Embroidered Apron
I don't always do crocheted projects. As some of you know who have popped in here from time to time, I do sneak in a needlepoint or cross stitched project here and there. (Click on photos to enlarge).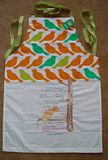 This is an embroidered apron which I'm giving to my cousin for her wedding. (Well, people don't usually wear aprons now-a-days so it's more like a wall decoration. I envision it as hanging on a hook somewhere in the kitchen to brighten things up.)
I'd ordered this apron online last year and was bummed out when I got it because I thought the bird print was for the
entire
apron- not just the top bib part. So I had tossed it in my closet and forgot about it.
Then, about a month ago I found a really neat item on etsy. A pattern to embroider this cute bird and quotation from Martin Luther, (a priest and leader of the Protestant Reformation). The etsy shop is
HootinAnniesII
So, I ordered it and when I got it I thought, now what can I embroider this onto? And then I remembered the apron.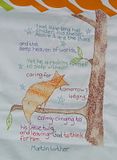 I thought, with the embroidery underneath, it would make the bird print above look like the leaves of the tree the bird was resting in. So, that's what I was hoping for anyways. I'm thinking of making some kind of fabric pockets for the sides.
I used many colors for the words and for the tree bark and bird I used variegated floss to make them seem to have more depth. I really like how it turned out. If you're having trouble reading it, it says:
"That little bird has chosen his shelter. Above it are the stars and the deep heaven of worlds. Yet he is rocking himself to sleep without caring for tomorrow's lodging, calmly clinging to his little twig, and leaving God to think for him." - Martin Luther
I hope she likes it!
I sewed on the pockets, added lacy trim, and also added a moon so it would look more centered. Click to enlarge.