No Libra Sun........No Halloween.....
I am working on a Zodiac afghan made up of "squares" each representing one sign of the Zodiac.
I thought I'd start with the current sign I was in when I started, (Libra), but I took longer than I thought I would and time has now crept into the next sign of the Zodiac, (Scorpio), so I have to start on that one right away next and catch up.
Anyway, I'm using this sweater knitting pattern book from Paton's called "Zodiac Knits" which I bought on ebay. It has graphs of each sign. Please click on the photos to enlarge them.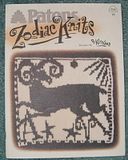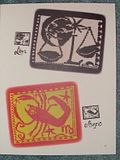 Here's a photo of the pattern book and a photo of a page inside showing the Libra and Scorpio designs once knitted.
Of course I only know how to crochet and so the pattern graphs will not be to scale, (as the afghan, (tunisian), stitch is a different size than the intarsia knitting stitches).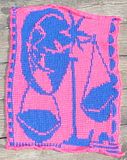 So, here's my Libra "square" which is more like a rectangle. I chose pink and blue as the colors because I googled "colors of the zodiac signs" and most sites seemed to agree that pinks and blues were for Libra. (Although they did say
pastel
colors). But I went with hot pink and a medium blue.
Now that I know what the size of each "square" will be, (18" wide by 24" high), I can now figure out how to arrange the squares of the afghan.
I'm going to make it three "squares" high by 4 "squares" wide. I think it should be 72" x 72" when all the squares are put together, (not counting the joining in between.) But anyway, it should be square-shaped when I finish.
Should be
. LOL!
While making the Libra square I kept having Stevie Wonder's song - I Just Called To Say I Love You - stuck in my head. LOL!
Especially the part that goes ...... No Libra Sun .....No Halloween ..... No giving thanks to all the Christmas joy you bring....
I'll have to end this post with a link to that song so I can get it out of my head!!!!
Let's see....what else?
Oh yes! I ordered two 2-dimentional Lego pumpkin kits a while back and put them together to create this awesome 3-dimentional Lego pumpkin following these instructions I found online.
3-D Lego pumpkin instructions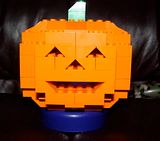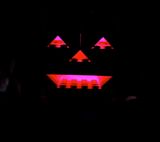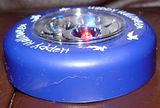 Here's a photo of my finished Lego pumpkin, an attempt at a photo of the pumpkin in the dark after I bought a 3-colored light thingie to put underneath, and a photo of the light thingie itself.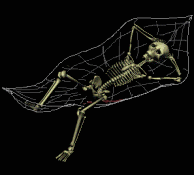 Happy Halloween!!!
No New Year's Day to celebrate
No chocolate covered candy hearts to give away
No first of spring
No song to sing
In fact here's just another ordinary day
No April rain
No flowers bloom
No wedding Saturday within the month of June
But what it is, is something true
Made up of these three words that I must say to you
I just called to say I love you
I just called to say how much I care
I just called to say I love you
And I mean it from the bottom of my heart
No summer's high
No warm July
No harvest moon to light one tender August night
No autumn breeze
No falling leaves
Not even time for birds to fly to southern skies
No Libra sun
No Halloween
No giving thanks to all the Christmas joy you bring
But what it is, though old so new
To fill your heart like no three words could ever do
I just called to say I love you
I just called to say how much I care, I do
I just called to say I love you
And I mean it from the bottom of my heart
I just called to say I love you
I just called to say how much I care, I do
I just called to say I love you
And I mean it from the bottom of my heart, of my heart,
of my heart
I just called to say I love you
I just called to say how much I care, I do
I just called to say I love you
And I mean it from the bottom of my heart, of my heart,
baby of my heart
I Just Called To Say I Love You