Everyone's A Captain Kirk - Afghan
Well, naturally I couldn't leave Spock hanging all by himself, could I?
So I made a Captain Kirk afghan as well and then joined them together, (as they should be), and added a Star Trek logo to the bottom as well. (Click the pics to make them super-huge!)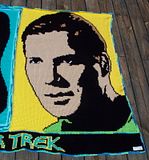 First off, here's Kirk alone. (I know what you're thinking you Trekkies out there. "Gasp! He's wearing a
green
shirt!")
Yep, well, as I was looking around for a decent representation of 'The Shat' that I could use, I stumbled upon the fact that the original series uniform for Kirk was actually an avocado, or lime green. Since this was the early days of television, colors were not a true representation of what they actually were. So, I decided I'd get him back in a green shirt. (Although I surrounded him in yellow because we're so used to seeing him in that).
This must explain why the "red shirts" always got killed by the end of the shows.
They clashed with the Captain's uniform! LOL!!!!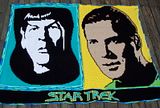 Here's the whole afghan. It was so big I had a hard time fitting it all into the photo.
My hubby wanted "Star Trek" underneath so I found a site that had a graphed logo, (albeit from a later Trek series).
I used that, but, since the afghan was so wide, I had to do the words starting from the side, (It's only 17 stitches across), and crocheting it that way and then adding the piece to the bottom. So, it's a whacky afghan anyways, what can I say?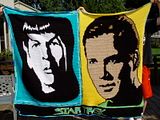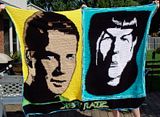 Front and then back of afghan.
Since my two youngest sons were home today, I asked them to hold up the afghan. This gives you an idea of the afghan's size.
(My sons are both about 5 ft. 10").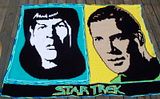 I leave this post with a link to Nena's
99 Red Balloons
where "...Everyone's a super hero
Everyone's a Captain Kirk..."