Sock Kitty Sisters
Ah, summer.
A time to visit relatives, relax, and catch up on each others lives.
And this is where we find two particular sock kitties. (Click on pictures to enlarge them).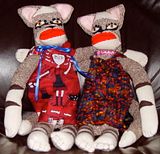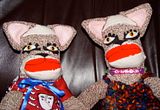 Meet two sock kitty sisters.
City Sock Kitty and Country Cindy Sock Kitty.
They've been exchanging gossip, news, and even outfits for each other.
City Sock Kitty is wearing a very trendy Organic Valley Farms kerchief dress that Cindy brought for her.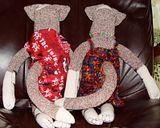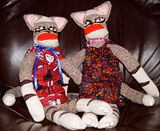 The back of the kerchief dress says "The Future is Organic".
Cindy Sock Kitty is wearing a crocheted a-line swing dress that City Sock Kitty crocheted for her sister.

They've been chatting since the moment they got back together,
but soon, one will have to journey back to her country farm in Wisconsin.
I hope she has a safe trip back!

I miss you and I love you!!!
( Herrschners has awesome sock animal kits, two sets to a pack!
Check them out!! )
edit:
Sock Kitty Back Home

Got this post from my sister with her sock kitty safely home..."She wanted to go outside to the barn and feed the chickens so that's right where we headed."
"She enjoyed throwing bread cubes out to them, good thing she had on her babushka over her head the chicken coop is sure dusty! "
"Then she spent sometime catching up with her barn cat friends."
"They all wanted to know what was happening in the city."
I love this last photo because it looks like they are whispering gossip to each other!!!
I haven't heard from Singapore Snape yet. I wonder how his London trip is going.