Think Spring
I bought a crocheted purse at Goodwill for super-cheap so I could make a copy of it.
It's made from a thick white cotton, (like Lily's Sugar 'n Cream). (The right side white purse).
It feels like a homemade purse. No tags on it, no lining in it.
(Click on to enlarge photo)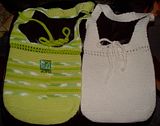 So I used three different greens of cotton yarn as well.
There are two long ties, one on each side, to tie the purse together for closure.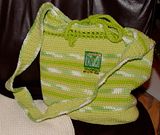 Here I stuffed some things in it so it would stand up and I could photo it that way.
I also attached a peyote "Spring" pin that I made last year from a kit.
It was fun to do the beading but you really have to be very patient to do that type of work.
And here I stuck in the photo my Hello Kitty purse I made to teach at Michael's last year. (Or was it the year before now? I can't remember.) No one signed up for the class, (as usual). Instead I had some teens ask me if they could buy the purse.
You know the saying, "Give a man a fish and he will eat for a day. Teach him how to fish and he will eat for a lifetime."
Well, it's like that with me and crochet.
All I wanted to do was teach crochet. Show them how to make it and they could make a million of them at home all by themselves.
Yet, in this crazy, commercial, instant gratification world we live in; I guess it's much easier to just go out and buy whatever you want rather than get the satisfaction of making things on your own. It's so sad, really.
ANYWAY, I got the pattern for the Hello Kitty purse here...
Jessica Tromp
It is the most awesome site and you can never post the link on any forums because of copyright laws. (Some of her patterns are copyrighted cartoon characters etc.) It's a shame because her site is jam-packed with useful information for many types of crafts including crochet, knitting, needlework, yarns, measurement conversions, gosh too much to mention.
So, anyway, I'm "thinking spring" this week.