One Harry Afghan
About a month ago I received a really nice e-mail from someone named Megan who had just finished up making an afghan for her friend for Christmas. (It blew me away it was so awesome!)
So I asked her if I could post it in my blog for all of you here who also appreciate crocheting and Harry Potter.
She wrote back asking if I'd wait until after she gives it to her friend around January 7th or 8th.
So, it's now the 11th and I am so happy to be posting this amazing afghan...(Please click on the picture to enlarge it)...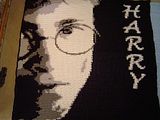 One Harry Afghan
Isn't it
fabulous!!!!!
I wonder what her friend said and did when she unwrapped this baby.
(Maybe she's still out cold from the shock of it's beauty) LOL!!
Megan doesn't have a blog or else I'd give you all the link but she does belong to Ravelry which is a knitting/crocheting community so I'm sure you can find her there. What a talent! (And what a great friend too!!!)