There And Back Again - Snape visits North & Central America
Singapore Snape has finally returned from his trip to North and Central America!
I received a wonderful travelogue e-mail chocked full of Snape photos and happenings as told by Snape's flatmate and begrudgingly-turned-luggage handler Karen whose e-mail I am now posting here for you all to enjoy.
(Please note that I didn't receive the last 8 photos mentioned at the end of the letter so, if and when I do, I'll be sure and add them to this post!). As always, to maximize the photo, please click on it. It will magically enlarge so you can properly see all of Snape's escapades.


Dear Becky, Happy New Year! Snape and I have gotten back from our trip to North and Central America, so as promised I'm sending you some photos. For maximum allowable attachment reasons, I'll probably have to send several e-mails, but I'll keep the story all together here.

First of all, you should know that Snape reluctantly invited me along on his potions gathering trip, because he needed a research assistant and, as he put it, I was "the closest thing to a qualified applicant (he) could find." I replied that I didn't recall having applied for the job at all, but was happy to assist if meant I could get a free trip. Little did I know that most of the 'research' work would entail carrying his substantial luggage from airport to airport. As you can see from the first photo, he certainly has a lot of luggage for someone who's less than a foot tall, AND always wears the same outfit.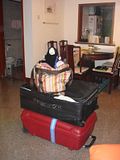 Anyway, our first stop was a brief layover in Tokyo. The flight was largely uneventful, though Snape had to hide from the covetous stares of the many small children sitting near us. They seemed to think he was nice and cuddly, despite his vehement protests that he was neither. If you look really close in this photo, you can kind of make out Mt. Fuji out the plane window beside him.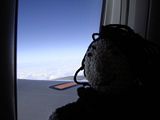 We next visited Calgary, Alberta because Snape wanted to see a Calgary Flames – Dallas Stars game, not because he's a hockey fan, but because he likes Sean Avery. Again, not because of Avery's mad hockey skillz, but because of the snide remarks he makes to the press. "It's nice to see another snarky git doing so well for himself," he said. Needless to say, Snape was terribly disappointed that Sean Avery was barred from the game, though otherwise we had a nice time. As you can see I convinced him to wear a Jarome Iginla jersey, so that he wouldn't be lynched by the Calgary fans for supporting Avery.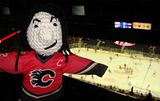 This is Becky here again just wanting to comment that this photo is so adorable and I absolutely LOVE it!!! Now back to Karen...
We then left for Fort Lauderdale to catch a ship bound for several ports of call around the Caribbean and Central America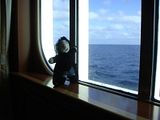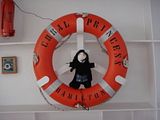 Imagines Snape singing....."The Loooooove Boat......Exciting and new.....come aboard.... we're expecting you.....
where Snape hoped to pick up his potions ingredients. I asked him again what ingredients he was planning on obtaining, and his reply was suspiciously vague. He again mentioned some type of crustacean, but he also referred to certain "local potions composed mainly of barley and hops, which, if brewed correctly, have several beneficial effects, including increasing one's confidence with the opposite sex, increasing dancing abilities, making otherwise ordinary comments seem hilarious, and giving the user a sense of invulnerability in fights. If used improperly however, these potions can induce nausea, terrible headaches, and can lead to unwanted pregnancies." He said that he would need to test several of these potions for efficacy during our travels, and that I would have to be close at hand at all times in case he required assistance to get back to his cabin, or needed someone to hold his hair in the bathroom. I didn't understand his little joke at first, but I finally figured it out on our first night at sea, when I came across him cavorting with some rowdies at the ship's bar. Locally brewed potions indeed!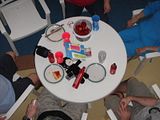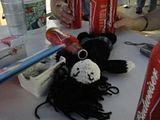 Our sailing voyage was quite pleasant. As you can see from the photo, Snape used the time when he wasn't testing potions (ha ha) to catch up on his 'academic' reading.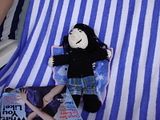 Our first port of call was Aruba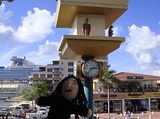 , DSC00240).
(I don't have photo DSC00240)
The only potions ingredient we had to get here was Aloe, which Snape needed to soothe the sunburn he got from spending 3 days sitting on deck and reading Cosmo all day.

Our next stop was Cartagena in Colombia.
Oooohh, Romancing the Stone territory!!!!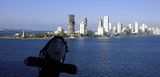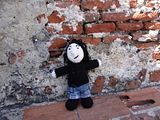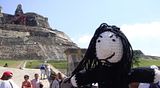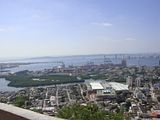 Snape said he needed to visit his friend Pablo to obtain a "very special potions ingredient, which gives the user a sense of alertness and euphoria, and is widely available in the mountains of Colombia." As I'm sure you understand, I was quite worried at this description, particularly because I would be the one carrying this mystery substance in our luggage. When he came back to the ship carrying nothing more than a bag of Colombian coffee, I was noticeably relieved. "Why?" he said, "What did you think it would be?"

We next sailed through the Panama Canal.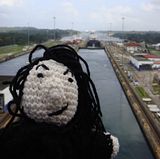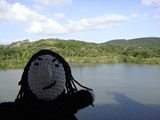 Snape said he would use the opportunity to get some fresh crocodile scales from a Gatun Lake crocodile. As you can see, I got a picture of the crocodile he picked out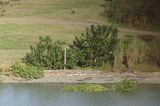 ( it's on the shore), but wouldn't you know it, my camera battery died just as he leapt off the ship's rail, swam over to the crocodile, wrestled it into submission, plucked off a handful of scales, and swam back to the ship. What rotten luck there are no pictures of that!

We didn't stay long in Costa Rica.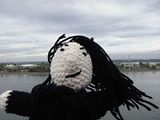 Me again. OMG!!!! Look at his greasy hair flying in the breeze!!!! LOVE!
Snape said that he was tired from all the hard work of potions sampling, which I guess is Potions Master for 'hungover.' He was really off his game that afternoon too: even though until this point he had successfully evaded all the children who were chasing after him and his Hello Kitty beach towel, that afternoon one of them finally captured him.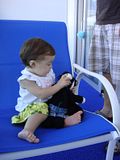 He screamed and screamed for me to "save (him) from this monster! It's got me like a Devil's Snare!", but I just laughed.
Snape with Devil's Snare. LOL!!!!
Snape was cranky and snippy for the next few days, and spent pretty much our entire time in Nicaragua sampling another one of those locally brewed potions, this time called Tona.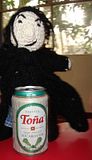 When we got to Guatemala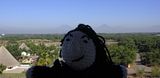 he disappeared early from the ship. I went to find him in the nearby town, and was shocked to discover that at 10:15 in the morning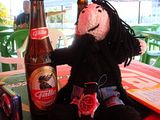 (see watch) he was already drunk on Gallo beer. I loudly berated him for his undignified behaviour, and he succinctly told me to stuff it. I left him, but the Guatemalan police soon found me and asked me to escort him back to the ship after he was found trespassing on some sacred Mayan ruins.
He was pretty drunk by this point. We had to stop a couple times for him to be sick behind a tree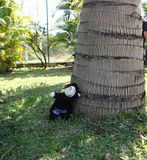 – this is my favourite picture of all).
"I've never been so embarrassed!" I told him.
"Oh I find that hard to believe," was his slurred reply.

Our last few days were pleasant though. We swam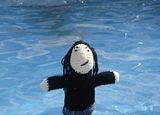 and stopped in Mexico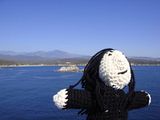 for a few days R&R on the beach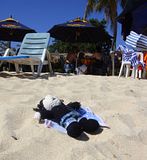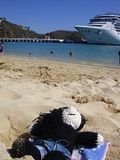 before heading back to Asia.

To my annoyance, we missed our flight out of Tokyo, so we had to spend a night in Japan. Snape was quite pleased though. I thought our hotel room was terribly cramped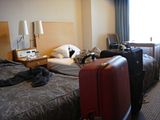 but he thought it was 'just right.' "Like your opinion matters!" I snapped. "You're only ten inches tall, AND you used to live in a dungeon. You're hardly a good judge of what constitutes adequate living space! "That night while I struggled to wedge myself into the tiny bathtub, he went to the Karaoke clubs and hit on Japanese women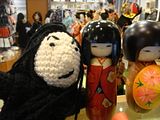 It was all going well until one lady's boyfriend – who happened to be a ninja – got ticked off at Snape's flirting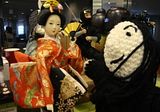 and he ran back to the hotel.

We got home the next day. All in all, it was a successful trip, insofar as Snape got to try a lot of 'potions' and neither of us killed the other. Snape's next trip probably won't be until spring or summer, but I'll keep sending photos of his local adventures. Best, Karen
And there it is folks. A fabulous entry from Karen and I want to thank her for including us on her trip with Snape by sending us this e-mail. I'm dying to see the photo of Snape being sick behind the tree as well as the angry ninja chasing after him. I'm also looking forward to more of Singapore Snape's adventures and travels!!!!
Thank you soooo much, Karen!!!!!!

Edit: I finally managed to get the other photos. (My computer was not cooperating for a while there). I'm still missing #DSC00240 but I'm going to look again and see if it's lurking somewhere on here.
ANYWAY, I love the sun bathing Snape! The photo of him on the beach with the people in the background underneath the umbrella is so great! I can't believe they weren't staring at him!!!
Snape swimming is fabulous! I want to jump in there with him and give him a good scrubbing. (It looks like he needed to get a lot of sand off his feet there in that one photo!)