Singapore Snape takes on Cambridge

Singapore Snape and his trusty companion Karen have returned from Cambridge, U.K. with this report! (Click to enlarge pics!)

Hi Becky:

Snape and I are back from our trip to Cambridge , UK and have some good pictures to share. The first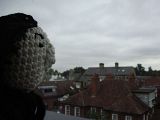 is from our room at Murray Edwards College (which is surprisingly NOT named after a man named Murray Edwards).
Oooooh, he
does
look rather sulky and surly there in that photo! Shivers!

I was in Cambridge to present a paper at a conference. Snape submitted a presentation proposal as well, but they thought his title -- "Draught of Living Death: Does This Potion Have Any Real World Applications?" – was some kind of a joke, so they turned him down.

Bwaaaahaaahaaa!!!!!
This meant that he spent the entire conference sulking in our room, and gazing wistfully out the window, as he's doing in the picture.

The second photo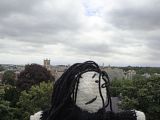 is from the top of Castle Mount looking out over Cambridge . Look at how his greasy hair is blowing in the wind! The third photo
is from the River Cam, where we went punting. Snape might look happy in the picture, but he got a bit seasick in the boat, turning his normally sallow pallor to a greenish grey colour. The man was just not meant for an outdoor life!
Punting. I had to look that one up. 'Moving the boat with a pole.'
I have visions of Venice, Italy and canals with gondolas.
Did Snape try to "help" out by using his wand?

And the last photo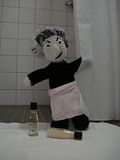 is when I walked in on Snape after his shower in our dorm. He was mortified. I suggested that perhaps his hair would be less greasy if he washed it instead of just stuffing it into a shower cap.

OMG!!!! This last picture looks like my mother-in-law!!! LOL!!!!
I
LOVE
it!!!! It would make a great poster!

Hope you like the pictures and that your summer is going well (bad weather notwithstanding). I've got 4 more to send tomorrow, including one from platform 9 ¾ at King's Cross Station. All best, Karen
Too bad he didn't get to speak at Cambridge. I can just picture him up there lecturing just as though he were back in his own classroom back at Hogwarts.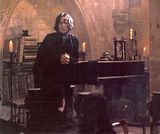 I can't wait to hear and see more about your trip!!!
------------------------------------
EDIT: I received a second e-mail from Karen today with the rest of her visit to Cambridge!

Hi Becky,

Back to our story. The first picture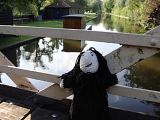 is from a bridge over the river Cam.
Snape insisted on going for a walk to collect some type of rare thistle, and made me go along to do all the fetching and carrying. That's about all I'm good for, according to him.
Humph! That's so typical of Snape! He looks all smiles and happy there!

The next one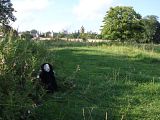 is from a cow pasture where we got lost, after following Snape's bad sense of direction.
Seriously, though, why would they put a cow pasture in the middle of town? Anyway, this is my favourite picture of Snape. I think he looks right at home there.
It's so green and beautiful!
He looks like he could just walk into that patch of grass and thistles and disappear on you.

The third picture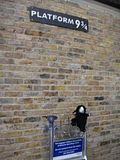 is – obviously – from King's Cross Station. There was a long line-up of people waiting to get their picture taken with the baggage cart. Snape was quite the hit with them. You should have seen him preening under all the attention.
OMG!!! You actually went there! He looks like "King of the World" on top of that luggage cart!
(I'm so glad you weren't too embarrassed to be seen with your Snape. I'll bet he just LOVED all the attention!!!!!)

And the last picture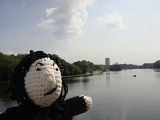 is from the Serpentine at Hyde Park , just after our Full English Breakfast, which contained among other things Black Pudding. Snape told me that contrary to popular opinion, Black Pudding isn't called Black Pudding because it's black, but because it was invented by the Black family, which explains why it's so gross and weird. Wow. Live and learn.

Take care, Karen

LOL!!!! "Snape facts". He should write a book on his little-known truths. Snape-isms.
Thanks so much, Karen, for continuing to chronicle Snape's adventures for us to share!