Spock Rocks Afghan
I've been having a slow summer. I'm always working on something but not everything is interesting enough to post.
Anyway, I've finished something I thought you-all would get a kick out of so here it is. (Click on the photos to enlarge them please).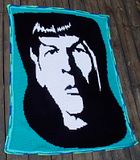 Yes, it's old-school Spock! (a.k.a. Leonard Nimoy).
I used a pumpkin carving stencil from
Pink Raygun's
site. They have several pumpkin stencils of the old Star Trek cast. And they're free stencils. Free is always good.
Then I graphed it at
Microrevolt
again.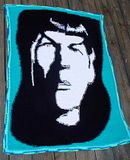 This is the back of the afghan.
It's not a very large afghan or anything. About the size of a beach towel.
I was thinking of making the Kirk and joining them alongside each other. But I'm not sure I like the Kirk at Pink Raygun.
I Googled and Binged around for a better Kirk stencil but haven't found any other good ones.
Oh well. For now Spock stands alone.
Live long and
crochet!
prosper!!!!