Count Dracula - Bela Lugosi afghan
Halloween is coming soon and I have finished my latest monster afghan.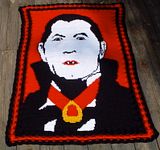 It's Count Dracula as portrayed by Bela Lugosi.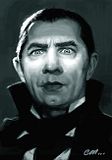 I used a this photo to make the graph by messing with the tint, colors, and all those other fun buttonsmy computer lets me use to adjust photos. Then I graphed what I had at the Knitpro website.
It's crocheted using a size J cabled afghan hook again. I used all "I Love This Yarn" from Hobby Lobby so it's really nice and soft.
As you can tell by the actual photo I changed a few things. I definitely wanted to show his fangs as that was the most recognizable thing about this "monster" so I made sure his showed. Also, I made his eyes red. I looked all around to different websites and saw that most drawings and things had his eyes as red. There's even a contact lens called "Dracula's eyes" which is red so I figured this was acurate. And I made his ribbon medal thingy up as well. Most sites and costumes of draculas do show him with some sort of red ribbon "baron-looking" medal around his neck so I put one on him.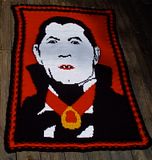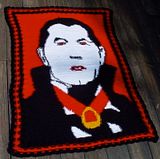 Here's photos of the front and back side by side so you can compare.
He will look right at home along with my Frankenstein's Monster and Bride of Frankenstein afghans!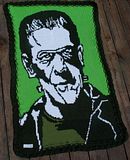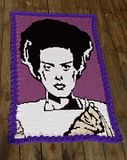 Next year, who knows. Maybe the Wolfman or Mummy or Creature from the Black Lagoon.