Halloween Throw and Mesh Purse
I've been working on Halloween things for the past month now.
I've been trying to wait until at least October to post them but then I would have nothing to show for September.
Maybe some of you will want to try making one of them before Halloween anyway, so you may as well get started now.
First, I finished this
Halloween Throw from Caron yarns.
That link takes you to the pattern. You can use whatever yarns and colors you like.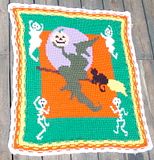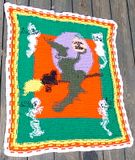 Here's my afghan. First photo is the front. Second photo is the back. (Click on the pictures to enlarge them).
I used mostly Red Heart and I Love This Yarn.
It was so sunny today the camera made it look a lot brighter than it actually is.
It's a pretty small afghan. About the size of a baby crib.
I made the border by doing the basketweave stitch using candy corn colors.
Next I have a mesh purse I made with black and orange Sinfonia yarn.
It took FOREVER!!!!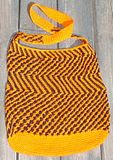 Here's the front and back laid on the deck.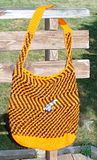 And here I hung it up over the deck rail.
I did it tapestry crochet style switching from black to orange and carrying over the next color each time.
It was a difficult and at times tangly mess. It's hard for me to not get all twisty doing the tapestry technique.
Anyway, the yarn is a thinner cotton so it's difficult to even tell it's "meshed" in two areas with a strip of single crochet in between. Maybe I should have stuffed it with things to bulk it out so you could see how stretchy it is.
I added a cute witch pin on it.