Sagittarius Square
Good Grief. Where has the time gone?
I've had a lot of major turmoil here and things are still in a semi-chaotic state so let me get this Sagittarius Square posted first before I forget. (Click to enlarge).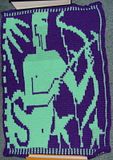 This is a square for the Zodiac afghan I'm making. Three down, nine to go.
I've got an afghan finished that some may have already seen but I still can't post it here until
after
Christmas.
I'm nearly done with another one which, if I can't get it finished before Christmas, it should be done by New Years.
I do have an awesome photo to post Christmas eve so hang in there on that. It's from Karen in Singapore and I know you all will like it!
Now, what's been going on here, you may ask.
Well. about a week before Thanksgiving, my mother-in-law, (who lives here with us), fell and broke her now-not-so-humorous bone. (She will be 80 years old in March). So, I had to call 911 and have them come out to get her to the hospital.
Then, after putting her arm in a sling, they send her back home here. No cast. No surgery to pin the thing together. Nothing.
The next four days are a blur of me and my three boys and husband trying to take care of Grandma. She can barely stand. We had to have her in her Lazy-boy recliner so the boys could push her chair from behind just to get her to stand up to walk to the bathroom.
She was constantly complaining of pain and her pain medicine never seemed to relieve her.
By day four, she started in wailing in pain around dinner time. I didn't know what to do. She kept screaming to call 911. That she was going to go into shock. That she was hurting so much. She couldn't move. Couldn't stand. Nothing.
Sooooooo, again I called 911 and they came and took her back to the hospital. They gave her so much pain medicine the emts asked if she was ever addicted to pain meds before because, if so, the body remembers and they need a lot more than normal to ever even have any effect.
Well, she's only my mother-in-law so I really didn't know her forever but I do know she's had many other ailments and surgeries throughout her long lifetime, (like once - before I even met her - she had fallen and actually broke both ankles), so I suppose it was entirely possible that she may have been addicted to pain meds at one time or another.
ANYWAY, they brought her back to the hospital, decided to do a surgery to pin the bone in place this time, and released her to a rehabilitation center where they are caring for her while her arm mends.
So, she's there now but her children, (my husband included), have decided she needs to move to an assisted-living center and have found a place in Illinois near her youngest child. She has Alzheimer's Disease and dimentia as well so this is hopefully going to be a good thing for her.
So these couple of weeks have flown by for me. I'm trying to get her things packed up and ready for the moving people. They start loading up the truck December 26th. They will be going the 27th. My husband will be driving her out there then too. She will not be coming home here. They thought that would be too hard for her.
Well, now that I've blabbed on and bored you all to death, I hope you will forgive me this most dullest blog entry ever.
I keep praying that things will pick up and get better soon and in the end it will all have been for the best.
Stay tuned for that Christmas eve post! You can all wake up now because this post is overwith!