No triskaidekaphobic be I!
That's right. I'm not afraid of the number 13. In fact, today is my birthday.
I have a son who is also born on the 13th, (of March).
Sometimes, like today, our special day of the year falls on a Friday too. I once read in a Superstitions book that, if you are born on the 13th, then it is actually your lucky day. (Hopefully, if it's on a Friday, then it's an extra lucky day for you). Who knows?
Anyway, I'm posting my second completed zodiac square from that Zodiac Knits pattern book.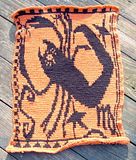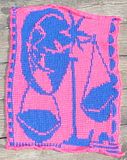 Here it is next to the Libra square. I think my camera is tired of photographing my projects. The flash always seems to pop up and go off now - no matter how sunny it is outside. I tried keeping my hand pressed down on the flash but then it doesn't want to take the photo at all.
So, as a result, I keep getting these over-exposed photos. The Scorpio square is actually a dark orange and black. And Libra is a darker pink and blue. Oh well. Once the squares are all done and put together, hopefully I can get a better photo of everything.
Oh yes! Another thing. I have joined the stitching community at
Ravelry
I am "beckykelly" there so if anyone wants to befriend me just do it! I haven't even made a post there yet. I have to figure out how it all works. I think I will start with this Zodiac afghan I'm working on. So, please, if you have a Ravelry account, feel free to send me a message! That is, if your not afraid to befriend someone born on the 13th, with a child also born on the 13th, on this Friday the 13th of November! LOL!!!!