"There are FOUR lights!" Cptn. Picard Afghan
I've been dying to post this next afghan in my blog but I had to wait until after Christmas as it was a gift for my son's girlfriend, who much-prefers Captain Picard over Captain Kirk, (as far as Star Trek Captain's go). (Please click on the photos to embigger them).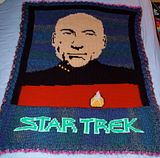 I used a size J cabled afghan hook and crocheted it in the tunisian (afghan) stitch.
He was a bit tricky as I've never crocheted a bald person before. I hope his head is in good proportion to the rest of him. He does seem to have a smallish head in all the actual photos I could find on the web anyway.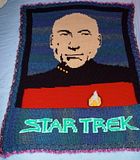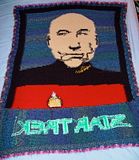 Here's another front shot next to a shot which is the back of the afghan.
I made the "Star Trek" word part crocheting bottom-to-top. (Hence, the stripes here are vertical.) I used Simply Soft Shadows yarn in Merino.
When I crocheted the portrait, I stitched side-to-side so the stripes are horizontal behind his head. I joined the the pieces together and crocheted around the whole thing doing a basketweave stitch.
I'm glad I chose that yarn because it really makes the background look like "outer space".
Anyway, she liked the afghan very much!
Not only that,
she and my son have become engaged as of yesterday!!!!
Woohoo!
I'm celebrating now with some tea I received from her for Christmas.
Just like the Captain would have ordered it.
"Tea, Earl Grey, hot."