Rainbow-Rama Duffle Bag
This colorful bag is made with left-over Lily Sugar 'n Cream cotton yarn.
(Click the photos to enlarge them).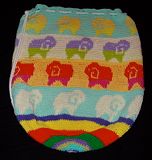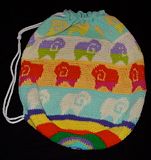 Here it is squished flat and then with the drawstring rope pulled.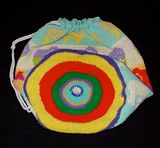 This is the bottom and where I began. I made the bottom circle starting at the center and then working in a spiral.
I used a size J hook.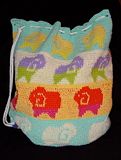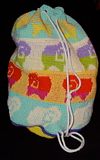 I stuffed a blanket and pillow in it so it would stand up. One is with the drawstring open, the other closed.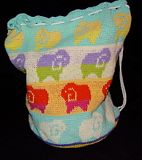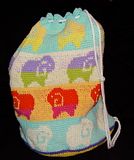 Still stuffed with items, here's the other side which is exactly the same. I did the tapestry crochet stitch going 'round and 'round using a graph at that site I mentioned in my previous post below. The Jessica Tromp site.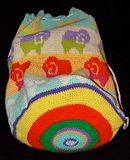 The rope drawstring is attached to the bottom so when you cinch it closed and pick it up, the weight of the bag keeps the bag closed.
I used the leftover yarn I had from the Autism Awareness Puzzle Piece scarf (which I donated to Theresa in Kentucky.)
She said she would raffle off the scarf to raise money for her son's special education school, (Binet School in Jefferson County Kentucky). Hope that went well. Haven't heard anything yet.