Zodiac Afghan Finished!
Finally! A year in the making and I've managed to get them all together.
(Please click on the photos to enlarge them).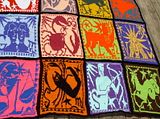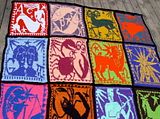 I had really tough time fitting the whole afghan into one shot. It's 81 inches by 81 inches squared. So I had to take photos in sections.
These first two are top and bottom shots.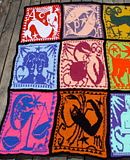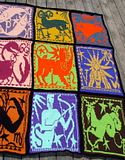 These are side to side shots. I'm standing on a bench but I still couldn't get high enough to get the whole thing in. It's HUGE!
LOL!
To remind you all, this is tunisian crocheted with a size J cabled afghan hook. Done in 12 squares and then joined together.
I used the Zodiac Knits pattern book from Patons yarn. (Designed by B. Klunder. Printed in Canada from 1992.)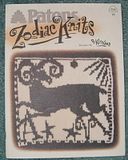 I used all sorts of yarns but mostly I Love This Yarn and Red Heart Yarn.
What a big project this was. This covers the entire top of a king sized bed exactly.
Hope you like it!