Moondance - Van Morrison afghan
Well it's a marvelous night for a Moondance,
with the stars up above in your eyes.
A fantabulous night to make romance,
'neath the cover of October skies.I have been groovin' to Van The Man the whole time I was working on this, my latest afghan.
(Please click on the photo to make it bigger. A second click will make it even larger you know).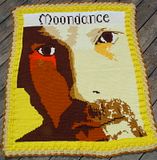 Van Morrison from the album cover Moondance. (One of my most favorite albums of all-time).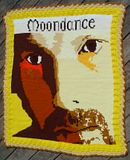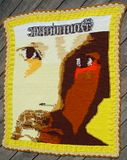 Here's a front and then a back shot side by side. I think the back turned out to be not so messy looking. That's hard to accomplish so I'm pretty dang happy about that too.
A lot of the yarn is that newish Vanna White yarn. She has some really great fall colors and it's really soft yarn.

I used a photo from Van Morrison's Moondance album here...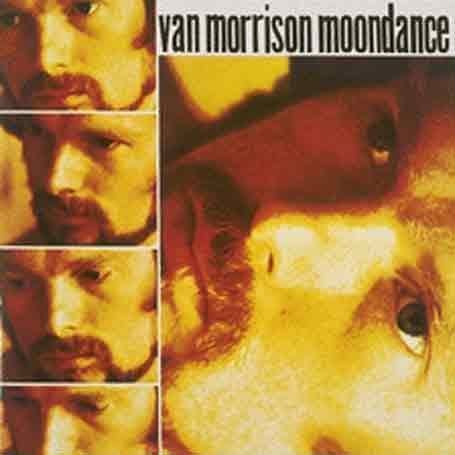 I then graphed it at microrevolt after adjusting the contrast and sharpness a few times to simplify the graph.

For the word Moondance, I went to that Celtic Cross Stitch site and just typed in Moondance and entered it. I thought it was only fitting to have a Celtic font for the "Belfast Cowboy". He really does have that Celtic Soul sound and I just love him to death!

While working on the afghan, I found a couple of awesome live performances and songs by him on You Tube.

This version of Caravan is even better than the album version. Just amazing!

Into The Mystic is spectacular.

And, of course, I have to end this post with Moondance. This version has the lyrics which are,of course, ..... fantabulous!

Oh! I also wanted to let you all know I put up that Jim Morrison afghan, The Harry Potter vs Voldemort afghan, and the Beatles afghans all for sale on e-bay yesterday. I'm pretty nervous about showing my stuff and selling it. I hope you can go check out the listings. All my afghans are special to me. My listings are under snapescape