Wriggly Trivets
Top o' the mornin' to ya!
Happy St. Patty's Day!
I've made three more wriggly trivets. (Please click on the pictures to enlarge them).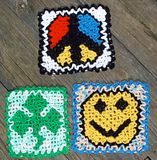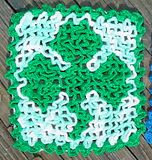 The shamrock pattern is from the Hot Stuff trivet book here
and the other two patterns I made myself with graph paper.
For the shamrock trivet I tried to be different this time and chose a variegated minty-colored thread for the background.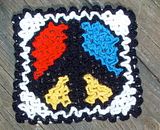 I'm calling this the Mondrian Peace trivet. I used black thread for the peace sign and trivet itself and filled them in with the basic colors Piet Mondrian used in many of his famous paintings, (red, blue, yellow, and white).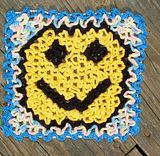 And this is the tie-dyed smiley trivet. For the background, I used another variegated thread that is sort of a pastel rainbow mix. I thought this gave the trivet the look of actual tie-dyed t-shirts.
I love making thread trivets with the crocheted wriggly technique! It's so fun!