Pisces, Virgo rising is a very good sign...
strong and kind,
And the little boy is mine.
Now I see a family where there once was none, now we've just begun,
Yeah, we're gonna fly to the sun.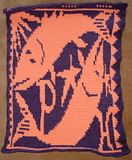 Pisces square is done! Click on the picture to make it larger.
Danny's Song
Loggins & Messina
What a great song.
March 13th, Happy Birthday Casey!!!! 21 years, where did they go?