Card Guards Afghan
Alice doesn't live here anymore.
Did she ever
live
on the other side of the looking-glass, really?
It was more of a visit, wasn't it?
At any rate, she's gone.
But the Queen of Hearts still has her guards helping her cheat at croquet.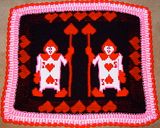 (Please click on the photo to enlarge it).
I tried to get this done for Valentine's Day but it wasn't, um, in the cards. LOL!
So, at least it's in time for the latest Alice in Wonderland movie to be released March 5th.
It's a small afghan and I used three, no four, different crochet stitches.
First I did the tunisian crochet, (afghan stitch), for the center guards. (Size J cabled afghan hook.)
Then, I single crocheted all the border hearts using the tapestry stitch. You actually carry over the yarn you aren't using in the design and it's sort of "trapped" within the stitch but still visible making it look sort of like confetti all around the hearts.
Then I did the front post double crochet/back post double crochet alternating between hot pink and white. (Ah! My eyeballs!)
Finally, in red, I did some clustered double crochets in bunches of five right down every other front post crochet.
I found the awesome card guard graph pattern at
Jessica Tromp's
knitting and stitching site. The graph is completely symmetrical so if you like that sort of pattern you'll find it there.
"You're nothing but a pack of cards!" - Alice