Alice In Stitches Purse
Alice in Wonderland is almost here.
I'm sure a lot of you will be going to the midnight releases Thursday, (well, really Friday), night.
I wanted to post my Alice in Wonderland cross stitch purse I made a couple of years ago. (Please click on the photo to enlarge).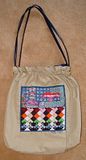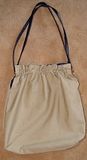 Tadaa! First picture is of the front, second picture is of the back.
It's made from a vintage purse kit from Darice. I bought the kit on ebay. Someone had started the cross-stitch panel which was supposed to be a diamond pattern, but they gave up after making one diamond.
I removed their stitches and decided to make an Alice in Wonderland bag using a pattern in this old library book by Kathleen Thorne-Thomsen called "Alice In Stitches". (I also bought this book on ebay).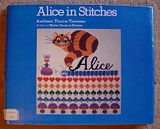 There are a lot of graphs in this book to do, but the purse I made using the one that is on the cover here. I had to modify it a lot to fit it in. The Cheshire cat had to go.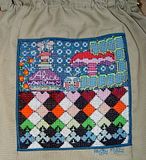 Here are some close-ups. Ugh! I see a tiny loose thread on one of the green spades! Please don't notice that!
I wanted to make the caterpillar on a mushroom but I couldn't fit him completely on it so I made him sort of climbing off of it. The mushroom design is from another pattern in this book.
For the tube leading from his mouth to his hookah, I chained together some iridescent blue seed beads and anchored them periodically to the design.
I also added some seed beads into the sky and the chess board which actually has the card suit designs on it.
I made tiny smoke puff rings in the sky with glow-in-the-dark thread. I also used that glowing thread in the white chess board squares at the bottom. Each white square actually has a fish stitched over the white in the glow-in-the-dark thread. So, if you hold this purse to the light and then take it out into the night, the circle smoke rings and the sea of fish show up.
As you can tell I really had a blast designing this purse.
Hope you all enjoy the movie!!!