Old Friends - Simon and Garfunkel afghan
I finished this last night and I'm posting it today before I go on a trip for 6 days. (Click to enlarge).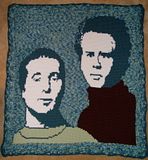 Here's the afghan. It was designed from a black and white photo of them.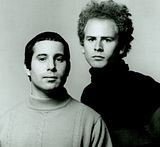 Here's that photo.
Well, I'll just come right out and say it so you all don't have to.....
Why does Art look like
George Bush
??!!! WTF??!! LOL!!!!!
I have no idea why that is. But now I can't shake it. Oh dear. All that work.
ANYWAY, Did you know that Paul Simon and Art Garfunkel will both be turning 70 next year?
70!
Paul was born October 13, 1941 and Art was born November 11, 1941.
It's as though God simply decided to create two incredibly talented people and made sure they would meet up and, "voilà!" Magic!.
Their upcoming ages remind me of the line in the song
Old Friends
when he sings;
"How terribly strange to be seventy."
It's one of my favorite songs by them.
I also wanted to add another video. This one is of
The Boxer
and was performed live on David Letterman when they were about to start another tour together.
I wanted to include this because they add a verse to the song which was cut from the original version of that song. Who knows why. Maybe people thought the song was too long. Here's the extra verse.
Now the years are rolling by me
They are rockin' easily
I am older than I once was
And younger than I'll be and that's not unusual.
No it isn't strange
After changes upon changes
We are more or less the same
After changes we are more or less the same
And yes, I do believe that after changes upon changes we are more or less the same.
I am so glad God decided to pair these two and gave them the talent and insight to put wonderful thoughts and sounds into poetic music which has continued to inspire me throughout my life.