Leo Square
My Leo square is done just in time to wish my Dad a happy birthday this Thursday!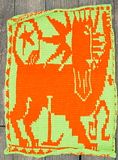 (Click on the picture to enlarge it). It wouldn't lay flat for the photo but after I attach it to the other zodiac squares it will be fine.
It's an eye-popping lime green and orange. It's so bright it just might melt your retinas to gaze upon it in person.
To celebrate, here's
I Can Dance / Long Tall Glasses
by a famous
Leo
.....
Leo Sayer
, that is.