Snape Conquers The Big Easy
I've heard from Karen and her Singapore Snape recently!!!
They've been traveling quite a bit. Here's her e-mail along with three new photos! (Remember to click on the photos to enlarge them).
Hi Becky: How are things? Is your family well? I'm finally getting around to sending you some pictures of Snape from Washington and New Orleans in February (How time flies when you're slaving away at work!).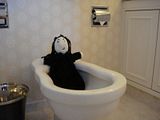 The first is from the bathroom in our fancy suite at the Madison Hotel in Washington DC (They upgraded me to a nicer room because I had been delayed for 2 days at O'Hare due to snow, and was quite overwrought when I finally got into DC). Snape was delighted with our room. He said, "I'm finally living the lifestyle I deserve. See here? A Jacuzzi designed with the crocheted Potions Master in mind. Now that's what I call luxury: thoughtful, understated luxury." I replied, "But, Professor, I think that's a bidet!" He said, "A what?" I said, "Um, never mind. Maybe look it up when we get home." He did, and was quite livid.
I hope she gave him a good scrubbing after that photo!!!!!!
As I mentioned, there was a lot of snow while I was in DC. The next picture shows Snape on our balcony in the second major blizzard.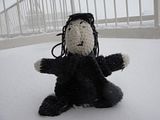 Doesn't he look cold? At first he was happy to pose for me, but, darn it all, none of the pictures I took turned out exactly right! So he had to wait out in the cold while I adjusted my camera and tried taking picture after picture after picture. After a half hour, he was getting pretty frosty, both literally and in the figurative emotional sense. (I think he's getting soft in Singapore 's warm, tropical weather.) Finally he shouted "Don't think I don't know what you're doing!" and tried to hex me. However, he was shivering pretty badly by that time, and missed me by a fair distance.
Oh dear! A frosty Snape is not a jolly happy soul!!!!!
The last picture is from New Orleans , the afternoon after Mardi Gras. We had arrived the afternoon of Mardi Gras, and Snape immediately departed "on wizarding business," he said. I didn't see him for another 24 hours.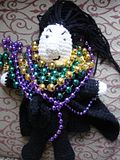 He finally appeared on the floor outside our hotel room in the condition you see here, and smelling of something vile. "Professor!" I said, "What on earth happened to you? And where did you get all these beads?" He groaned, "All I remember is having too many Raspberry Ice Picks, then crashing a society ball, then talking to a police horse, then puking on Bourbon Street , then nothing." I was greatly concerned, and asked, "Was the police horse an animagus? Were you on a mission for the Order of the Phoenix ? And what's a Raspberry Ice Pick? Some kind of vile potion??" He said "What are you talking about?? Um, oh yes, a potion…."
I LOVE this photo!!!!! I can totally see it made into a puzzle. (I love puzzles). It would be great!
P.S. - When I was in Canada I looked and looked for the red Olympic mittens, but couldn't find any anywhere. I've been checking online since I got back, but again, no such luck. I guess they're all sold out. I'm really sorry about that. Snape tried to transfigure a dishtowel into a pair, but they were of poor quality and he misspelled ' Vancouver ', so I refused to send them to you, even though he insisted you'd never know the difference.

Karen
Oh, rats! No red Vancouver Olympic mittens! Oh well, thanks for looking. And it was nice for your Snape to even try conjuring a pair. I'll bet he could make a small pair for himself with some red felt and a white felt maple leaf on the palm. But what does he need mittens for in Singapore? Well, he does travel to places like Washington D.C. after a snowstorm.
I wonder what he's done to "earn" all those Mardi Gras beads around his neck. He must have flashed his wand to a lot of fans in The Big Easy!!!!!!!
Thanks for the photos and updates, Karen!!!!!