Virgo Heather Square
I've finished up the last square of my Zodiac afghan a little early.
This one is Virgo. (Click to enlarge)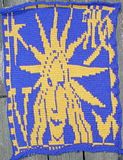 My son asked me why did I make a Statue of Liberty square? LOL!
She does resemble the statue but I think it's really a lady with long hair who has a sun in the background behind her and the sun's rays are what is shining all around her head. (The Zodiac Knits book I used for all the patterns is from Patons yarn which is made in Canada and the book was printed in Canada and I'm fairly certain they could care a less about the Statue of Liberty).
Anyway, it doesn't matter because I'm done. Woohoo!!!!
I am now bordering all the squares and then I can join them together. It's going to be one huge massive afghan that's for sure.
Usually I end the post here with something related to the square. A song link or a picture or a story. But here I have nothing. Let me see... Well, I have a niece born September 5th. I think that makes her a Virgo. So this can be called the Heather Square.
Yep, that's right. Heather. She looks like a Heather, doesn't she?
Oh, and, what the heck......
this too.
Now I'm off to join the squares!