Starkid Afghan
Have you all seen A Very Potter Musical on You Tube Yet?
Well, if you haven't, oh my Rowling, what are you waiting for??!
It's
hilarious!
(My personal favorite is definitely Quirrel, Voldemort, um, QuirrelMort.)
The actors are fantastic, the music is so great, and the humor is spot-on for all Potter fans to revel in.
So I wanted to make an afghan to celebrate this "totally awesome" musical and I had a lot of ideas from "Pigfarts" to "Rumbleroar" to "Red Vines".
But I finally decided on crocheting their production company's logo "Starkid".
So, here it is, (click on the pic to enlarge the photo).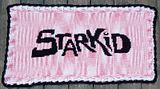 It's only 18" x 37". It would be great to hang on a wall or just to put around your shoulders or lap while on the computer.
I used all cotton Sinfonia yarn by Omega. The variegated pink really looks cool using the afghan stitch.
Now, if you're dying for more Potter Musical fun, they have just posted the A Very Potter Musical Sequel on You Tube as well.
This is also
fantastic
and I've watched both quite a few times already.
They even have soundtrack music available for free. Yes. Free!
It doesn't get any better than that, does it?
Unless they do a third Potter Sequel.
Now that really would be totally awesome!