Butterflies Are Free
I worked on this a few months ago but never posted it here. It's a rug that can also be wall art made with thick craft yarn on a canvas from a 1970's kit I bought on e-bay. (Click photo to enlarge).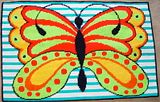 I love the colors! The background was supposed to be all white but you know how I have to always go crazy on things and make them even more psychedelic. It's made with a simple half-cross stitch using a thick yarn needle.
Love Is Like A Butterfly