Sock Monkey Snape
A couple days ago I bought a sock monkey kit from Goodwill for $1.99.
Images are clickable for enlargement.

I've always wanted to make a sock monkey. So I spent a day working on cutting and sewing and stuffing and sewing the monkey. Once he was all put together I got to "personalize" him however I wanted. I did not like the look of the Santa sock monkey the kit had plans for. Of course I thought of doing a Sock Monkey Snape right away. So, like my crocheted Snape doll, I knew I would need pants, a frock coat, and stringy Snape hair. I set to work and had a lot of fun crocheting all his things.

Here's the pics.

I crocheted a wand and potion bottle too.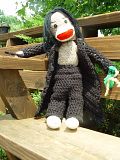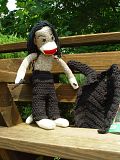 His palms have velcro tabs so he can hold the wand and potion bottle.

I was going to make shoes but then I thought, hey!, he's a sock monkey! Let's see his socks!

His tail actually was longer but I thought it was too long so I cut it down.

Oooooo nakey Snapey Monkey.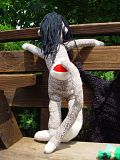 This is his red baboon butt. So cute.

I tried to show the hole I have for his tail here. It's in the center where the ripple normally is. I only skipped two more chain spaces on either side so it would fit.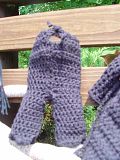 His pants also needed a tail hole.
I know what a lot of you are thinking. Yes, he does look a lot like this certain person......
http://img79.imageshack.us/img79/4903/r12407297644df.jpg
but I can't help that.
Did I scare you? Sorry. It's how he looks.
Hope you-all enjoyed this project. It was lots of fun!