Maxed Out Afghan
Another Peter Max afghan.
This one is designed from a Peter Max American express credit card which I found online.
(Please click on the photos to enlarge them).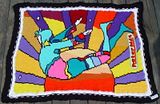 It's so hot out today and the sun made the colors in the afghan look different in the photos so I'm posting two shots of it.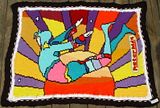 This second photo is lighter and brighter looking than the first.
I like how both photos looked so here they both are.
Anyway, I know you crochet fanatics will want to see the back so here is that.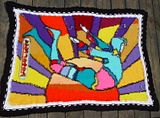 Not too messy at all.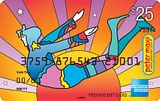 So, I found out there are/were three Peter Max designs for American Express cards. Naturally, this one, (my fave), doesn't seem to be available anymore. Why am I always the last person to find out about cool things?
Anyway, the other two are the Running Man and the Love ones.
I think this falling man image is from an Earth Day; Every Day poster of Peter Max's
I think it's the perfect design for a credit card.
I see it as me - falling into debt. LOL!!!!
Truly! (In fact, I wasn't even sure if I could pick up my medicine at the pharmacy today because we are totally Maxed Out on our credit limits.) Happily, (or not), I was able to get the meds.
Anyway, the afghan is tunisian crocheted with a size J cabled afghan hook.
The yarns are either I Love This Yarn from Hobby Lobby or Red Heart yarn.
For the sun, I used two colors of a sparkly yarn called Bella. I'm not sure you can see the sparkliness in the photos.
Ok, my computer is telling me sparkliness isn't a word. LOL!
Too bad because I'm using it anyway!
I hope you enjoy looking at the afghan.
I just love Peter Max's work, as you know, and when I saw this credit card design I just had to make it.
Especially since I can't even get the darn thing on a credit card anymore.
(And even if I
could
get the image on a card, I couldn't even afford to put any money
ON
the card anyway so it's all moot, isn't it?)
Well, instead, why don't I just sit back and enjoy the image of myself falling into that big abyss of debt I've created, shall I?