The Joker - Heath Ledger afghan
Gosh, October's already here!
For Halloween this year, instead of crocheting a monster from old classic black-and-white movies, I decided to do a more newer "monster" instead. I chose The Joker as portrayed by Heath Ledger in the 2008 movie The Dark Night. (Yes, a Batman movie).
Please click on the photo to enlarge it.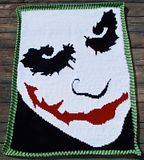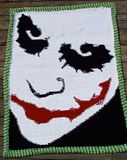 There's the front and then the back of the afghan.
For the pattern I googled "Heath Ledger" and "Joker" and, boom, there's a great stencil someone had made.
I took the stencil and uploaded it to Knitpro to graph it.
It didn't take long to crochet from the graph because it's pretty simple with few color changes and big blocks of color too.
I tunisian crocheted it with a size J cabled afghan hook.
I used Red Heart yarn in black, white, and burgundy.
Now the border; that's another story! It took me almost as long just to single crochet the border than it took to make the whole afghan!
I wanted to do it in green, (reminiscent of his hair color). So I got out three colors of green I had and decided to single crochet it in the tapestry stitch. (That is; carrying the other two colors within the stitches as I went along. Exchanging them every third color. Well, after a first round of this I thought. oh my God! This is going to take forever!!!! Which it did. LOL!
It nearly drove me as crazy as The Joker himself!!!!
Happy Halloween and be careful out there!