No Wedding Saturday Within The Month Of June...
(Please click on the photos to enlarge them).
Nope. Not in June.
But actually on a day that some folks believed would be the beginning of the end of the world.
May 21, 2011.
This is the day my son was married.
Not in Westminster Abbey in front of a crowd of 1900 or so, like William and Kate.
Just a beautiful ceremony in a garden outside the landmark cottage of
Stone Head
in Nashville, Indiana.
It was an awesome day and, frankly, if the world was beginning to end, I can't think of a better place to be than with all our relatives, friends, and loved ones celebrating a union of two people in love.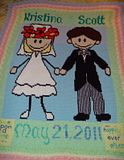 The afghan is sort of a 'fairy tale / child's coloring book version of a wedding' theme.
(Their theme was actually video games so I hoped this would work.)
For the stick figures I used a free template offered here.
Crafteeguiri's blog.
It was designed to be used for cards or stamping but I just uploaded the picture to microrevolt and graphed it.
For the names and date I graphed them at a celtic cross stitch site here.
Celticxstitch.
I've used their graph generator to create a lot of the words for my projects. It's a great site.
The afghan is crocheted in tunisian afghan stitch using a size J cabled afghan hook.
I used Bernat Baby Coordinates baby yarns which have a sparkly silvery thread running through the yarn in each skein. It's nice, soft, lightweight and also kept up the fairy tale theme. The border was done with a basketweave stitch to look like a rainbow. I tried to get the border in the photos. It's really sweet.
I just free-handed the "Once upon a time... happily ever after." part with a variegated yarn.
Let's see. The guests and relatives have all gone home now, the honeymooners have just returned and are back at their jobs, the world is still spinning on it's axis, and love is all around us.
Life is good!
It's The End Of The World (As We Know It), And I Feel Fine
YAY! Here's a photo of the happy couple with the afghan. Thanks, Kristina!