....and Myles to go before I sleep
Well, I've been busy but haven't been able to post things because they were, (or are), gifts.
But I can finally post a couple of baby things.
First of all, meet Myles, born 4/20/2011 ...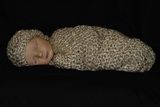 Myles is enjoying the beanpod I crocheted from a pattern purchased by my niece from etsy shop
I'll be Yarned
It's the
Newborn Cocoon Pattern
This was really easy to make and it fits him perfectly! YAY!
Second, I have a
Striped Long Tail Pom hat
also modeled by the adorable Myles.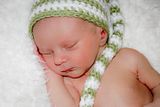 It has a huge pompom on the end of the hat tail but that's not in the photo. (If you check the link I gave to the etsy shop where the RAJK pattern is from you can see the whole thing.)
My niece sent me a whole bunch of patterns and asked me to make them for her new baby. So these are just a couple of them. Make sure to click on the photos for larger views.
Now my niece has three sons just like me! Myles looks like a sweetie and I can't wait to meet him at my oldest son's wedding May 21st!!!
The woods are lovely, dark, and deep,
But I have promises to keep,
and miles to go before I sleep,
and miles to go before I sleep.
ROBERT FROST