Fezzes Are Cool
I've been needlepointing again.
I found another old kit on etsy by my favorite designer Judith Gross. (She created the awesome
Peace Work
needlepoint which I changed a little bit and made into a pillow.)
This kit was for a very wide, groovy belt and sort of shirt applique. Here's photos of the kit and what's left over from what I didn't use when I created my fez. (Yes, that's right. I said fez) Click on the photos to enlarge them).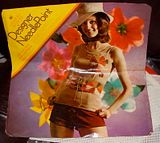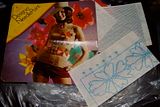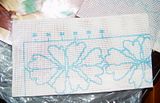 The belt was supposed to be about 4 inches wide. Good grief! There wasn't enough material to make a belt for a, let's say, aging child of the 60s either. Plus, I wasn't thrilled with that weird appliqued design that you were supposed to stitch and then sew onto a t-shirt. Ick!
So, I started on the belt thinking, what can I make out of this? It's too cool a design to NOT make it into something. Then I thought, "I know! A hat! The belt part could go around the head and the big appliqued part could be the top of the hat. YAY!!!!"
That's what I had in mind whilst working on this. It was difficult to fit the pieces together. The canvas is rather stiff to work with. But I managed to get it done despite my aching fingers. Here's it is folks. Lot's of pictures to follow...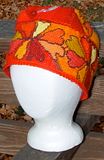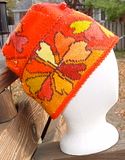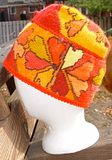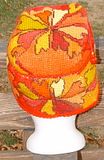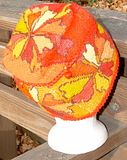 Let's see that's front, right side, left side, and two back shots.
The kit came with orangy colors and I added a lot of my own too. It's a very fall-colored hat.
Since I wanted it to look like a fez. I knew the tassel would be important. I looked through my jewelry box and found this really cute strawberry pendant/bead. It was perfect! Strawberries were very popular in the 70's.
For the front where a Shriner's fez would have had a curved sword, I found another old piece of jewelry in my box that I always thought was strange. It kind of looks like a wheat stalk on the top and at the bottom there's a red faceted bead that kind of looks like a cherry.
I sewed that to the front and attached the tassel to the middle so it could swing around. I also sewed tiny red beads in between some rickrack along the edge and in the middle of the fez but I don't think it shows up in the photos.
I found out a lot about fezzes while working on this by checking the web. There's a lot of interesting information on them.
Also, as some of you Doctor Who fans must already know, the Doctor himself briefly wore one himself, until his companions had a rather nasty reaction to it as seen here in a you tube clip....
"It's a fez. I wear a fez now. Fezzes are Cool."