RedTango cats and Alan Rickman afghans
Happy New Year, everyone!
To start off this year I wanted to introduce you all to the talents of artist Cynthia Petrovic.
Her website is at
Tangoland
where you can see her wonderful artwork and animated characters.
She is also an Alan Rickman fan and has made some hilarious clips which are uploaded on You Tube under her name RedTango.
My favorite of these is her
A Day With Alan Rickman.
I was inspired to make an Alan Rickman afghan based on one of her Alan Rickman portrait drawings which I saw on her web page in her art gallery section.
Soooooo, without further ado, here's my interpretation of Cynthia Petrovic's Alan Rickman drawing... (click on the photo to enlarge it please).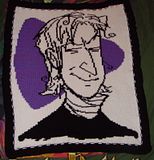 I added a purple sort of triangle to the background for color. I wanted it to look like a swanky boomerang. Unfortunately, it looks more like a "record" triangle on a tape player button instead. LOL! Ah well.
It's such a great drawing and she has a few others of Alan in character such as Mesmer and Slope, so make sure and check out all her work!
I also made an afghan, which I sent to her, of two of her RedTango cats.
Here's that afghan... again, click onto the picture to enlarge it.....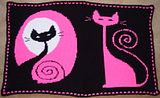 For this afghan I used two of her free Livejournal icons located on her "downloads" page at her Tangoland site.
Both afghans are tunisian crocheted with a size J cabled afghan hook.
Yarns used are Red Heart Pretty n Pink, black, white and lavender.
Good luck to all of you in this brand new year!