Happy Saint Nicholas Day! Mistletoe and Cranberry dolls
Tomorrow is Saint Nicholas Day so Happy Day to all who celebrate it!
My niece asked me to crochet some Christmas stockings for her two boys so I looked all around the web to find a decent crochet stocking pattern.
I found one
here
that I really loved. It didn't look "blocky" like the other patterns.
So, here's the finished stockings. (Click on the pictures to enlarge them).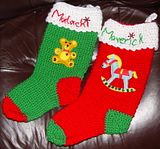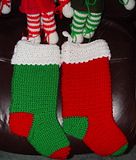 These are front and back photos.
After I crocheted them, I made the felt decorations from an old felt ornament kit. Then I sewed them on.
I also wanted to make them monkey dolls. I had gotten a kit from Herrschner's called
"sock" Monkeys
They aren't really made from socks but crocheted instead. I really had a hard time understanding the directions so I wound up just winging it.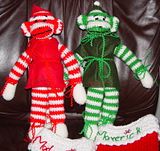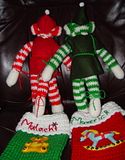 Then I made the felt tunic and hats too. The red one I named Cranberry and the green is Mistletoe. (Their names are stitched on the tunics).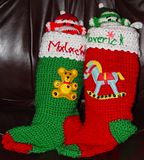 I tucked them into their stockings and sent them off to Wisconsin. Hope the boys enjoy them!