Fairy Lights, Fairy Fey, and Fairy Fish Afghan
I really didn't know what to call this afghan. Usually while I'm working on one I'll think of a million catchy things to call the afghan when I'm through. But this time words just failed me.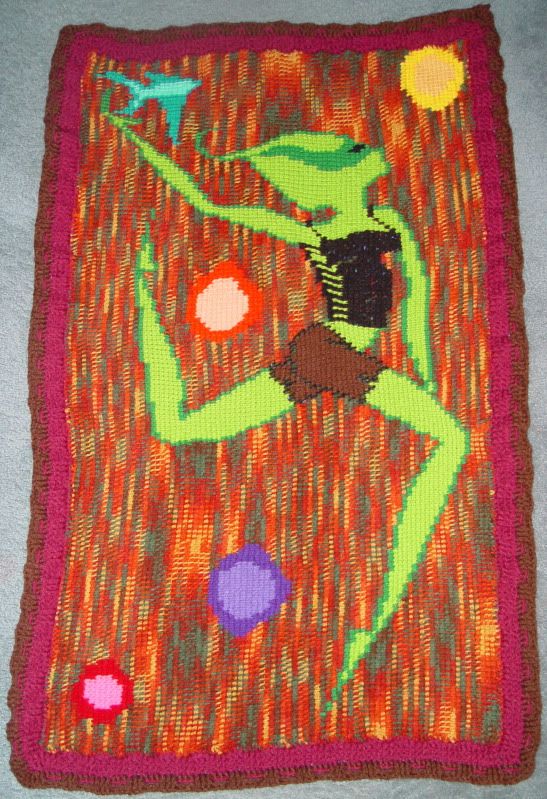 So here it is.
Green Sprite with Blue Fish (Click on the photos to enlarge them please).
This project all started a while ago when I was looking up Blue Fish Clothing on etsy. (Blue Fish is a line of clothing for larger sized women. They are pricey and etsy sometimes has some sellers with used Blue Fish clothes for cheap).
Anyway, I stumbled upon this one t-shirt sold by
spitfaced
. It's not from the Blue Fish Clothing line. It's just a t-shirt with a blue angel holding her pet blue fish. (At least that's the description from the seller). She still has more to sell on her site.
Well, I just loved this design for some reason. It's just awesome-looking!
I did buy the shirt but it's only a large and I'll probably have to make it into something else like a t-shirt bag or something.
The back of the shirt has a url for a now-gone website of some kind.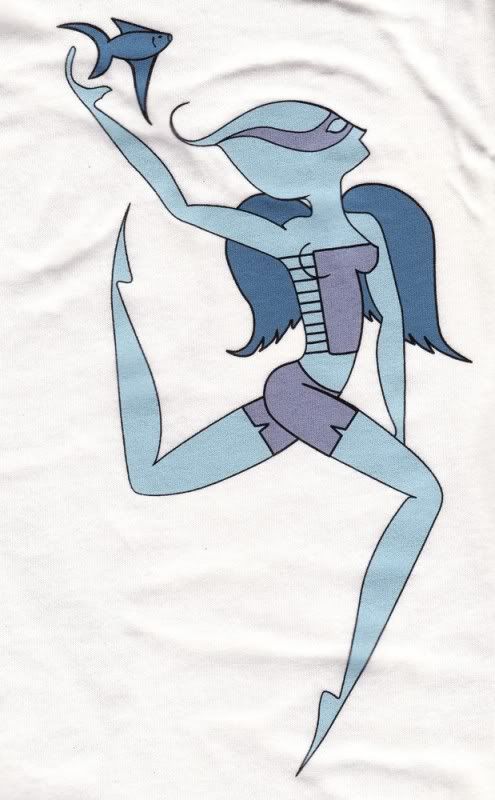 I used this photo of the t-shirt, uploaded it to Microrevolt, and graphed it there.
I decided to de-wing her as she looked so elegant running I didn't think she needed wings anyway.
I changed her from blue to green. I had more green yarn. That's basically why.
I added circles of colors like floating orbs to fill in the background where I thought there was too much blank space.
And I used a variegated yarn in fall colors. It's interesting using variegated yarn in tunisian crochet. You never know what it's going to look like.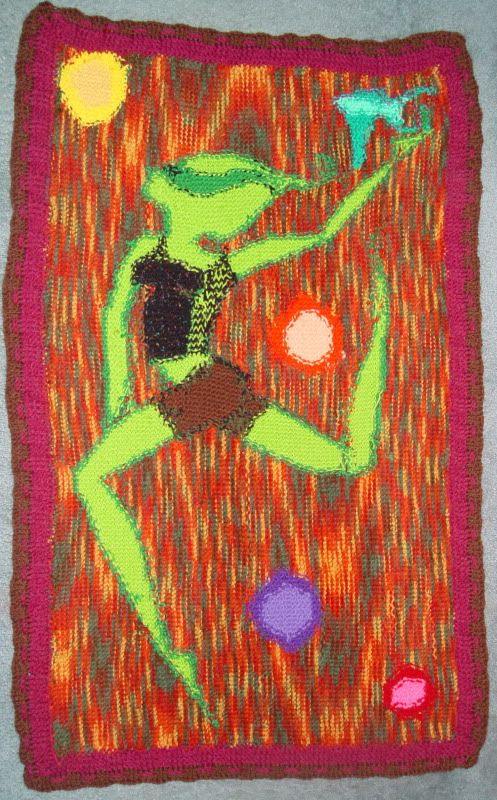 Here's a photo of the back.
The afghan measures 28 1/2 inches wide by 46 inches high.
It's tunisian crocheted using a size J cabled afghan hook.
You know, looking at it as I'm posting this, and it being the Christmas season and all, I could say this was a green elf dancing around Christmas tree colored ornaments or lights on it. Hmmm. Don't some people call them fairy lights?
Hmmm, how about "Fairy Lights, Fey, and Fish?" LOL!
Or Fairy Lights, Fairy Fey, and Fairy Fish! That's it!
I'm going back to the top and change the title of the afghan now.
So unless you've read up to this point, it won't make sense 'til now. LOL!
I'd be fun to make her in different colors and different colored backgrounds too.
Well, I hope you all enjoy looking at it. It's really a fun design.