One Small Step - One Giant Leap - Sweater Jacket
This project is my tribute to the late Neil Armstrong who passed away in August of this year. Please click on the photos to enlarge them.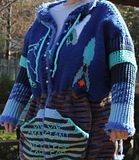 Here's the front. (Yes. that's me). It shows a rocket taking off and an astronaut attached with a cable to a space capsule. Below there is a planet and the middle has pockets on each side for the hands. (It's supposed to be a sort of flying saucer spaceship. I was going to put two alien pilots in the control bubble at the top but I didn't. Maybe if I find two alien head patches that fit I might sew them on later. If they exist. On the alien spaceship pockets is the quote below.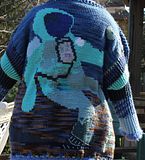 This is the back. This is supposed to be Neil Armstrong as he steps off the space capsule onto the moon and says his famous quote, "One small step for man. One giant leap for mankind." I tried to emphasize the step footprint there at the bottom with the moon boot tread in the dirt.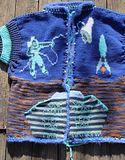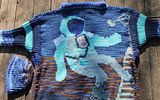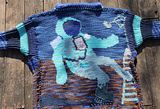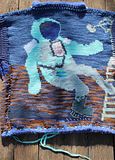 The sleeves are front post double crochet, back post double crochet all the way around several rows. So they sort of stretch to expand. I wanted them to look kind of space-age Jetsons - ish.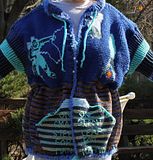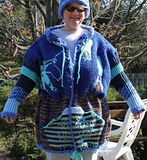 Oh, good grief, there I am. Is my new camera broken now? Inside the sweater is a crocheted cord threaded through some belt loops I made to cinch it around. Otherwise it was just way too puffy. I made a hat to match the sweater too.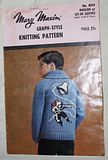 This is an old Mary Maxim sweater pattern from 1966 I bought on e-bay a few months ago. I used the astronaut and capsule on the front. It has a rocket pattern inside too for the back or sleeves but I thought it looked too "blocky" so I made my own rocket ship for the front with some nice curvy lines on graph paper.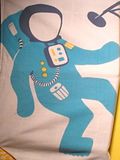 For the back I graphed some old Marimekko fabric of an astronaut. Someone had used the fabric to make a tote bag. So I bought the tote bag, photographed the fabric, then graphed the design.
This whole sweater was tunisian crocheted using a size J cabled afghan hook. The sleeves are crocheted as stated above with a regular J size crochet hook.
This moon landing was one of the biggest events in my life and I'm happy to have made the event into a sweater to cherish the moment forever.
I'm a Craftster Best of 2012 Winner!