Swanky Skankin' Skellies Sweater
This is my first tunisian crocheted bulky sweater.
I found this old Beehive sweater pattern on etsy with Mexican dancers and bongo players with music notes.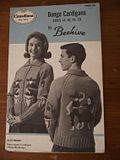 (Please click on all the photos to enlarge them). I loved it but wanted to make it with a really cool dancing skeleton graph I found
here
on a do-it-yourself graph pattern making site. At this site, people have made their own graphs which get posted for a while. But they only post photos of the finished graphs for a short time so it's not there anymore and I have no idea who made it. I'm so glad I saw it and was able to make a copy before it was deleted! After I got the pattern I realized that I needed a sweater pattern for a much larger person than on this old pattern. Soooo, I got a Mary Maxim Titan bulky sweater pattern book
here.
It was on sale, (still is), and it has lots of nice patterns too. So I used this Titan booklet for the sweater size, used the old Beehive pattern for the bongos and music notes, and used the skeleton graph to make this.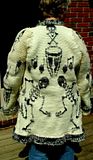 It's almost all wool. I had the intention of felting it but after I put it together, I realized that it would shrink way too much and never fit. I took photos of the sections before assembling it.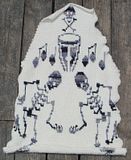 This is the back. I made this first. I had to reverse the skeleton graph on the right side. It was confusing at first but you get used to it.
These are the two front sides of the sweater. I used soft Watercolors yarn from Lion Brand Yarn for the stripes. I think that yarn is discontinued now.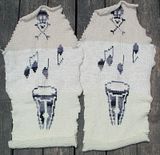 Finally here's the sleeves. Now, I asked my husband, (who actually played the drums in high school), if the notes were correct and what about if I reverse them for the other sleeve? (It says to do that in the pattern). I showed him the photo on the Beehive booklet. I wanted to make sure it was right. Well, he said one was right, the other not. Well, I wanted to get it right. But I guess I misunderstood him or something. So, consequently, I think I made them both wrong. (At this point, I don't care anymore) LOL! So after taking these photos I went to put it all together. Ugh! It was so hard! The sleeves kind of come in at an angle from the front and back and so when joining you kind of just have to free-style it. Plus, crochet is so bulky. After trying several things, I finally wound up weaving black yarn through the seams and cinching it. It's still bulky but, believe me, it's much better than it was. I have a few more photos of it all together. My son took the pictures and the color is not as accurate as the separated piece shots I took of it alone earlier.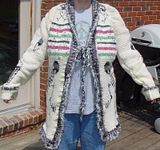 This is the front. I have two multi-strand crocheted yarn ties for closure. I added a lot of soft fluffy trim all around too. I was going to make pockets but didn't want to cover over any of the skellies.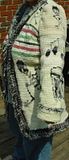 Here's the side. This is where the color in the photos goes weird. I'm not sure why it turned out so dark.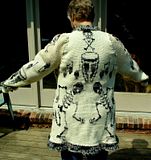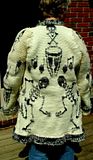 I can't wait to wear this! It's perfect for Halloween or Día de los Muertos occasions. It's so dang hot right now but it will be great for fall here in Indiana.