C'mon Get Happy Bag
Three years ago I posted an Earth Day tote made from an old Columbia Minerva kit.
Here's the link to that post.
So, last year I decided to take the pattern and make a needlepoint repeating the pattern 3 times across with left over thread.
(The other tote was done in plastic canvas with yarn all from the kit).
So, after I finished this new needlepoint, which took me forever, I made it into a sort of purse slash bag thingy.
Then I was so tired of looking at it I took some photos of it outside and threw it in my Closet Of No Return. (Similar to the Forest Of No Return from Babes In Toyland).
I must have listened to this album a million jillion times.
I don't even think I saw the movie! LOL! It did come with a storybook though, as I recall.
So,
anyway
, I never posted about the bag in here. Yet.
Well, here it is, folks.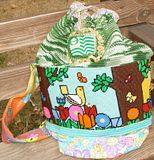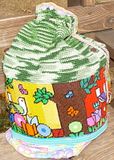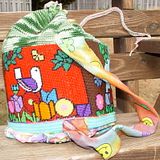 I used three different colors for the sky as it was just a bunch of old thread. I ran out of the darker yellow there in the one panel and had to use a lighter color.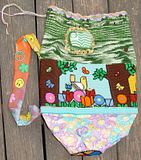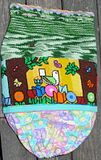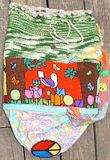 It's sort of a round barrel shape so I squished it flat and took these photos so you could see it easier.
The top is croched with green variegated Sinphonia yarn. I wanted it to look like the tree tops. I crocheted in a vintage plastic Ecology Flag that I found at a garage sale.
The bottom is made from a smiley flowered fabric. (I tried to keep it like a theme of flowers at the bottom, the start of the tree trunks in the middle with more flowers and butterflys, and the the tree tops for the top of the bag.)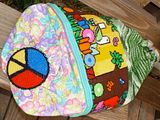 At the very bottom of the bag I mad a peace sign on plastic canvas and sewed that to the end.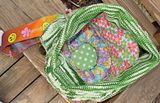 This photo is of the inside. I even lined the thing. Sheesh! I never do that. No wonder I was so tired of it afterwards.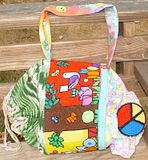 These photos show the bag with the strap and the drawstring closure.
The strap is made from a cool bandanna from Goodwill.
It had someone's name written on it in one corner in black Sharpie marker. I think it was a girlscout. I guess she wanted to forget her campout when she got this awesome bandanna. Anyway, now it's a strap on my bag.
Man, do you think I took enough pictures of it that day? LOL! I still have more too but I think you get the idea of how it looks.
You can always click on the photos to enlarge them.
I wasn't sure what to call this bag or this post.
It was going to be for another Earth Day but I always forget about it when the day comes.
Hmmm, I think I'll just call it the C'mon Get Happy bag.
The pattern is just so neat.
I'll bet I could crochet it into an afghan too. Hmmmmm........