Puppet Pal Snape Car Seat Cover
This post is to cheer up my sister who is in the hospital.
I hope you have access to a laptop and I hope you get better soon!
I have been busy. This is my sort of crocheted homage to the very witty Neil Cicierega; creator of the fabulous
"Potter Puppet Pals"
clips.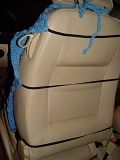 It is a Snape Puppet Pal Car Seat Cover. (Click on the pics for enlargement).
You can put it on your driver's seat.
This way, when you get up to leave he will be guarding your car until you return.
The second pic. shows the back of the seat.
I attached three black elastic bands and crocheted two string ties on the top to prevent it from slipping down.
These are just two shots of how it looks from the front. Of
course
Snape would
absolutely
be driving a green VW Beetle! These pictures cracked me up as I was taking them.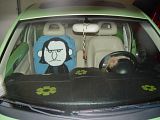 Now, for those fans of "Driving Miss Daisy", we have Snape in the passenger seat riding "shotgun" for you.
You could say you were "Driving Professor Snape". (Although; in light of recent events, I don't think he's a
Professor
anymore.)
Then it would be "Driving Mr. Snape"
(But I don't think he'd help you with directions or map-reading however.)
I like him over here better because then you can drive around and people can see him.
I haven't been brave enough to try it out myself yet.
And you can see I've taken my photos inside the garage with the door down so my neighbors couldn't see what I was doing.
Yes, I am a big chicken.

Cyn!!!